Hungary
Hungary covers 93,000 square kilometers in area and it has got about 10 million inhabitants (Budapest 1.7 million). The majority of the Hungarians is Roman Catholic and speaks Hungarian, a language that belongs to the Finno-Ugrian language group. Learn a few words before your trip! We will practice together for sure!
Good morning = Jó reggelt
Thank you = Köszönöm
Yes, no = Igen, nem
Please = Kérem!
Wine= Bor
Cheers! = Egészségedre! (Sounds easy, doesn't it?)
Where is the toilet? = Hol van a toalett?
Watch and listen a little help from the BBC: Essential phrases, or learn Hungarian online...
Accommodation
I would like to recommend these hotels with good location and nice conditions:
3-star: Pest, Hold, Fiesta, Ibis Centrum, Erzsébet, (very simple but ok: Mátyás, Calvin House).
4-star: Astoria (very old but freshly renovated, nice architecture), Carlton, Art'otel, Gellért (thermal hotel!), K and K Opera, Mercure City Centre, Starlight Suiten, Korona, Victoria.
5-star: well, of course, all of them are great, the best location is rather on Pest side: Inter, Merriott, Sofitel, Le Meridien, FourSeasons, Kempinski.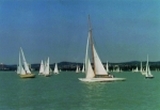 Geography
North to South, the greatest distance is 268 km (171 miles); East to West, it is 528 km (316 miles). The landscape consists mostly of plains in the east, low hills to the west, and small mountains to the North. Kékes Mountain , the country's highest point, is a modest 1014 m. The major rivers are the Danube and the Tisza. Hungary is land-locked but does have the biggest fresh-water lake in Europe, called Balaton.
Local Time
Hungary is in the Central European Time Zone: GMT + 1 hour. Summer time (March to the middle of October): GMT + 2 hours.
Taxis
Please, use the larger reputable taxi companies working with lower rates. All cars must have a taximeter installed and they are cheaper if you call them. The operators speak English. Survival kit: take a cab if there is a telephone number on the side of the car.
Főtaxi: tel. 222 2222
City Taxi: tel. 211 1111
6x6 Taxi: tel. 266 6666
Buda Taxi: tel. 233 3333.
Arriving in Budapest
On horseback: not really comfortable and parking is a problem.
By plane: All passengers planes land at Terminal 2A or 2B of Liszt Ferenc Airport -- 24 km east of the city centre.
Airport Minibus inside the arrivals hall: within Budapest to any hotels. Further info on bud.hu.
Airport Taxi service: ride from the airport to the central hotels costs about 6500 HUF (EUR 22). See Citytaxi or bud.hu for further information.
The public transport: Bus 200 is the cheapest option; it stops at the airport every 15 minutes, from 04:55 to 23:20. It goes to Kőbánya-Kispest metro station (No 3 or blue line). You can buy tickets at the bus stop.
By train: Budapest has three major railway stations: Keleti (Eastern), Nyugati (Western), Déli (Southern) and each has connections to the metro system as well as the other public transport. If you come from Vienna or Prague, you will arrive in the Keleti or Nyugati, both are in the centre. Train tables: mav-start.hu.
Climate & Weather
Budapest has a temperate continental climate. Hottest months: July, August (max. 28-35°C , or 80-95 Fahrenheit), coldest ones: December, January (lowest -15°C). For info: www.met.hu
Money
The Hungarian currency is the Forint (Ft or HUF). For the exchange rates see e.g. www.xe.com or otpbank.hu.
Euro, US dollar and credit cards are accepted by most tourist-related businesses such as hotels, restaurants. Paying by credit card is not the routine experience like it is in much of the West, it is better to have some HUF in cash in museums, small shops, markets.
Security
Budapest is a safe city; that is why the visitors' number is increasing. There are quite a few policemen in downtown and around the main tourist attractions. But never forget, it is a big city! Take care in crowded places!
Public transport
Budapest has an efficient transport network: buses, trolleybuses, trams and three metro lines (they intersect at Deák Square in the centre of town). I am going to teach you what the simplest ways are to do your own discoveries.
Last trams run until 23:45.
A ticket for a single one-way journey costs HUF 350.
A day pass (napijegy) costs HUF 1650.
The Budapest 72-hour travelcard is HUF 4150, the 7-day travelcard is HUF 4950.
Further information: at the company's website.