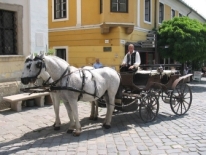 Baroque Szentendre
Winding lanes in the artists' town
4-hour driving tour with nice walks.
The town has a picturesque setting on the Danube, with a Mediterranean feel, winding lanes, seven church towers, colorful houses, several galleries and warm cafés. Main sights: Greek Orthodox Church, Margit Kovács Museum, Belgrade Orthodox episcopal Cathedral, Jewish Memorial House, House of Folk Arts, Marzipan Museum. You can come back by boat!
Gödöllő, royal town and Horse show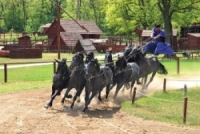 6-hour driving tour. Visit in the Royal Palace (see above). The world champion Lázár brothers' Equestrian Park is in Domonyvölgy, close to Gödöllő. 1-hour colourful show, demonstration of our colourful historical horse culture. Hall of Champions, Stables (more than 70 horses), traditional Hungarian farm animals, Hall of Hunters.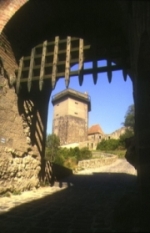 Szentendre and Visegrád*
The 'earthly paradise'
8-hour driving tour.
Walking tour in Szentendre (see above). Visegrád is a small riverside village, former site of a sumptuous royal palace. The Castle on the top of the hill also used to be residence of the Hungarian kings. Most beautiful picturesque view of the Danube Bend! King Matthias' Renaissance Palace, Roman ruins, Solomon's Tower, dry bob-sleigh. You can come back by boat!

*Gabriella's choice!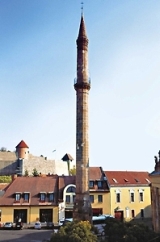 Eger*
Most beautiful wrought iron gates and best ruby dry reds in the Beautiful Lady's Valley
All-day driving tour.
This one thousand-year old baroque town is one of the most beautiful places in Hungary.
It is famous for its Castle, the Classicist Cathedral,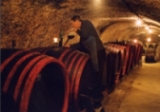 the Turkish minaret, the late Baroque Lyceum with a unique library, "camera obscura" and observatory.
Other sights: County Hall, Dobó István Square, Minorite Church, wine tasting in the Beautiful Lady's Valley.
*Gabriella's choice!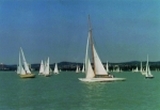 Lake Balaton
The "Hungarian Sea"
Balaton is the "Hungarian Sea", the largest lake in Central Europe.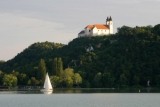 It is surrounded by hills on the northern side offering a beautiful view. Main sights: Benedictine Abbey on the top of the Tihany peninsula, and Balatonfüred. We can visit Veszprém, 'the city of the Hungarian queens'; its Castle District, Fire Tower, Bishop's Palace, St Michael's Cathedral.
*Gabriella's choice!
What does it Cost?
Prices are per tour or per car not per person.
There are no extra charges except entrance fees,
which are not included.
Please contact me for the prices!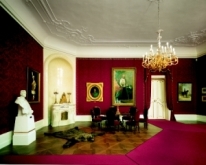 Gödöllő Royal Palace
Sissi's hiding place
4-hour driving tour.
The beautifully restored Royal Palace was favorite residence of Queen Elizabeth, wife of Franz Joseph, emperor of the Austro-Hungarian Monarchy. Main sights:Count Grassalkovich's mansion, Rococo Chapel, Baroque Theatre, Royal suites, Maria Theresa's bedroom, Franz Joseph's study room, Palace garden, beautiful paintings, dresses.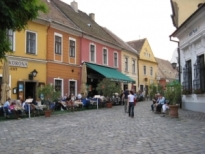 Szentendre and thatched roofed earth houses
6-hour driving tour. Szentendre is home to the first and largest open-air Village Museum in Hungary. The park displays all the regions in the form of original buildings typical of their area. Many of them were carefully dismantled and rebuilt here. Main sights: Upper Tisza Region Calvinist church, Great Plain, Western Transdanubia. You can come back by boat!
Danube-Bend: Szentendre, Visegrád and Esztergom
Small villages, towns in the hunting ground of the Middle Ages
9-hour driving tour Walking tour in Szentendre and Visegrad (see above). Esztergom, a small charming town nowadays, used to be the first capital of Hungary and still today the centre of the Roman Catholique Church. Main sights: Cathedral on the Castle hill, Treasury, Cardinal Mindszenty's burial place, ruins of the first Royal Palace, Castle Museum, Watertown, Christian Museum, Town Hall, Church of St Anne.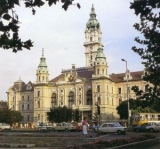 Győr
The town of rivers and Pannonhalma Abbey
All-day car driving tour.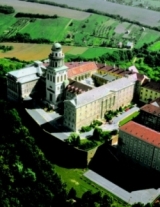 Győr is one of the Roman settlements, famous and well-loved for its atmospheric centre and fine Baroque buildings at the confluence of three rivers. We will visit the Bishop's Cathedral and local art collections. Pannonhalma Benedictine Abbey is a World Heritage site. Abbey's history collection, library, cloister.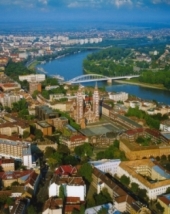 Szeged
The town of sunshine and Ópusztaszer
This beautiful little southern town was completely rebuilt after a devastating flood in 1879. Main sights: attractive statues, amazing art-nouveau palaces, a lot of history, home of the famous red paprika and Pick salami Museum, Szeged Cathedral, National Pantheon, synagogues. Ópusztaszer Historical Memorial Park : one of the world's very few circular paintings (cyclorama), Feszty's 'The arrival of the Magyars', a great spectacle!