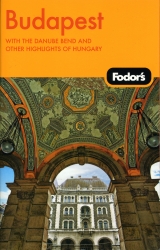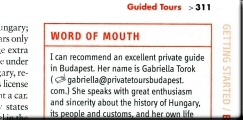 I am very pleased that I am recommended in Fodor's Budapest guide book.
I just want to tell you again how very much my friend, Vicki, and I enjoyed our day with you on June 9. It was the best day of
our week in Budapest. You were fun, charming, informative, energetic, and gave us wonderful advice. Thank you again for all your kind and thoughtful attention. I will certainly recommend you to anyone I know traveling to Budapest. With affection, Lynnel Garabedian 2012 May
I just wanted to thank you from all of us - Michael, Krystof and I for being a wonderful guide on our recent trip to Budapest. I have written a Travel Journal on my Travel Agents Website - Gerard - 2012 Feb.
Dearest Gabriella. Thank you again for a wonderful two-day tour of Budapest. We had a wonderful time and learned so much about your great country and city from you. We will recommend you to anyone visiting Budapest. Paul. 2011 Sept.
Hi Gabby, we have arrvived back home and we want to thank you for a great tour. The time with you very much added to our wonderful experience in Budapest. You were extremely helpful and informative. Thanks for doing such a good job. Sincerely, Glenn Fuchs - 2011 Jan 13
Gabby:
I am still recovering from my jetlag, but I wanted to drop you this note to let you know how much we enjoyed the two days we spent with you in Budapest. It was easy to see that you have a deep love and understanding of your city, your country and your people, and that we merely scratched the surface of your interests and knowledge during our time together. Thank you for blending together the past and the present, and being sensitive to our particular interests in the Jewish history of Hungary, even when it was difficult to see and hear about that tragic time. I decided to engage you because I was taken with the upbeat nature of your website, and we were not disappointed. I would recommend your thorough and easygoing services to anyone planning a trip to Budapest. Thanks again!
Josh Whitman 2010 Nov 3
Dear Gabriella:
You are a real trooper to have handled the change in our group from 4 people to 6 people. And in the rain. I did not have an opportunity to fully explain the reason for the change. My wife and I were with my German friend Wolf (with the beard) and his wife Cristina. The evening before we met the other couple, who are friends of Wolf. Wolf did not know they would be in Budapest. The other couple live in Santiago, Chile and Berlin. He is retired from the German diplomatic service, having been an ambassador to three different Latin American countries. They flew to Budapest 2 days before. They asked if they could join us. He and his wife were very interested in everything about Budapest and greatly enjoyed your tour and the information you gave us.
Thank you again for showing us around Budapest. We learned a great deal. Sincerely,
David Lustbader - 2010 June 20
Gabriella, We returned back to New York yesterday and I can't stop thinking about our amazing journey ?back in time? to Abaujszanto. Thank you for making our trip to Hungary so meaningful and for Robert's help in cleaning off the stone of my great great grandfather. I will send over a few photos from the trip to you shortly (including the ducks at the Danube shoe memorial). If you wouldn't mind asking Robert to email whatever photos he took of Abaujszanto and Mad, I would greatly appreciate it. All the best, Matt (& Joanna) Weiss
We had the best time with you and feel like our eyes were opened to a beautiful part of the world of which we knew very little. The history and context you provided really brought the city to life for us. We can't thank you enough for making it such a wonderful and educational trip. Even with the bad weather we loved it!
Sarah J. Rowley - 2010 June 2
Dear Gabriella, I wanted to thank you again for the wonderful tour to Visegrad and Szentendre last month. It was one of the highlights of our trip to Europe!! You are a wonderful and knowledgeable guide! It is very obvious you have a passion for history and your country. It was a pleasure to meet and share a day in Hungary with you. I would be very happy to give a positive reference for any future clients. Sincerely, Connie Pelz. 2008 December
Gabriella Just a short note to, once again, thank you so much for the time you spent with us in Budapest. Your knowledge, good humour and ability to always find a perfect parking space was something special. We really did have an excellent time and will definitely try to visit again soon – I have even downloaded a recipe for Flodni cake from the internet. Our visit to the Opera with you (for less money than a cup of coffee in Tel Aviv!) is a story we have told everyone about. Once again, many many thanks for making our visit so special. Best regards, Jackie, Brian, Loren and Ami
Jackie Milliner, Israel. 2008 November
Dear Gabriella:
Back in Canada after a wonderful holiday I wish to thank you for making our visit to Budapest so wonderful. I particular, your attention to our love of music and the Hungarian composers Liszt and Bartok. We visited Liszt's apartment and later took the # 5 bus to visit Bartok's home. That was a wonderful experience.
with best wishes, on behalf of Petr Landau and Drummond Bowden 2008 October
Dear Gabriella, Thank you so much for a wonderful and enlightening Jewish tour of Budapest. We are sorry we did not have another day in Budapest. To be honest with you, if we were planning the trip over we would have spent one day less in Vienna and one more in Budapest. We loved Budapest and were not particularly enamored with Vienna. Fortunately, we decided to take one day and take the train to Salzburg and the lake district, which is beautiful. I am passing your name along to our travel agent Babette Rinis and will also keep it if anyone asks for a guide in Budapest. If you are ever near Washington, please contact me. I know the 6 of us would love to see you.
Be well, Sheila Lebowitz 2008 Sept
Dear Gabriella, We want to thank you for providing us a fantastic memorable visit. Your knowledge and personality made the history and beauty of Budapest come alive. You provided us a deep appreciation for the art, architecture and history of Budapest. But, most important we felt the warmth and pride of the people. We will always recommend you when we have the opportunity.
Muriel and Alan Hackel 2008 Aug
Dear Gabriella, You were a fantastic guide. You not only shared your knowledge of Budapest but also gave us wonderful tips on things to do and places to go. My only regret is we didn't get a picture of you! I'll take it off the internet. We all enjoyed you very much!! I gave your name to our neighbor's daughter as she is interested in investing in Budapest so she may call you. I told her you speak impeccable English!!! If any of my friends go to Budapest I will give them your name. You were the best!!! Thanks for making our stay in Budapest special. Sincerely, Diane Thompson (2008 June/July)
Our personal tour guide in Budapest was Gabriella Török the first day that we would heartily recommend. See our writeup on Budapest on our website http://www.seaowl.us/2007rivercruise and click on "4 days in Budapest" in the left column.
Enjoy, BJ
Hi Gabi, Just a short note to thank you for our trip to Eger the other week. My mother is still talking about the camera obscura and has developed a taste for strudel! I enjoyed the visit to Szépasszonyvölgy and wish I'd bought a few more bottles of wine there! I think I'll have to go there again and stay for a day or two. Many thanks again Nagyon köszönjük szépen!
John Walters , 21.11.2007
Dear Gabriella, I returned home last night, and want to tell you again how much I appreciate the good work you do with my students every year when we visit Budapest. The city touring, as always, was excellent, and the students and I appreciated your enthusiasm, information, and kindness. Again, it was good to see you, and I greatly appreciate your help in making the students' program a success.
Cordially,
Gary R. Weaver, Ph.D.
Professor of Management
Editor in Chief, Business Ethics Quarterly
Alfred Lerner College of Business & Economics , University of Delaware (Jan., 2008)
Dear Gabrielle,
(...) Wanted you to know that you are an absolute DELIGHT, a GRAND ambassador to your country, and you gave all of us such a magnificent treat!!!! THANK YOU for sharing you city/country with us! WE LOVED IT!!!!
Peggy (Juergen, Kathy, Johnny) 2007 November
Gabriella, Thank you so much for the enthusiastic tour you gave to us and our friends. It was by far the best tour we experienced during our three week vacation in Europe. Your knowledge of and love for your country shines through in your every explanation. We definitely plan on returning to Budapest for a longer stay and will call on you once again to guide us. --
Warmest regards,
Mary and David Bock, Houston, Texas (2007, October)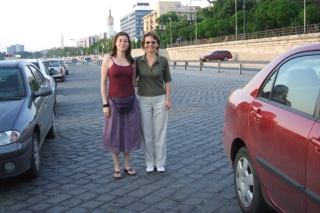 Gabriella- Well after a 9 hour direct flight home, I am finally back to work. On behalf our all of us, I would like to tell you that you are one of the best guides that we have ever had. And we are very discriminating about our guides!!You never have down time, you spoke to us all of the time, and imparted much knowledge to us about the political changes that you and your family grew up with. You kept our attention even when we were in the car, or just walking around. I think you confused boredom on our part, with truly concentrating on what you were saying. I hope that you enjoyed your short time with us as well. (…) Please feel free to use me as a reference, as you can always give out my email address if some potential client is looking to speak with one of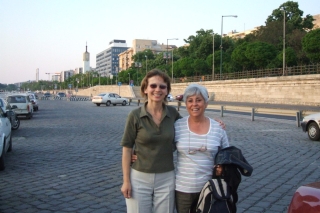 your previous clients. It would be my pleasure. Your students must be lucky to have you as a teacher. Gabriella, thanks again for being so professional!!!
Wendy Zucker NY, USA 2007, July
Dear Gabriella, We want to thank you again for making our trip so special in Budapest. Without you it would not have been the same... It meant so much for David to visit his roots and learn so much of the history. We loved your surprises where we got to see and eat, and drink things I know we would not have done had we not had you as our guide. We went on to Vienna and then Prague and even though we did love Prague, you were right, we loved Budapest the most. If you ever need to use us for a recommendation, please feel free to do so. Our very best regards, David & Judy 2007, June
Gabriella, We just wanted to thank you again for the wonderful enthusiastic tour you provided our group Barbara Braun's (USA) group. Jim and I thoroughly enjoyed listening to the history lessons, customs and your personal experiences. We returned home with a great appreciation and understanding of your country and especially Budapest. Excellent Job!!
Betty and Jim, 2006, October.
Hi - It's Tuesday and we already miss you and Peter. We could not find your address on the Web Page and would very much like to send you some photos and an invitation to our home and a thank you note. We will keep in touch with you both, Love and many thanks, Elaine (Dorothea) and Charlie, 2006, September
Hello Gabriella , You were so kind as to give us your business card when we were recently in Budapest. We love your city and hope to return again one day. Our door is always open in the USA , please contact us if you ever wish to come to North Carolina for a visit. Please know that we will pass on your contact information to anyone we know who is going to Budapest. Linda and Don Mattocks, New Bern, NC
The highlight of my many weeks in Europe was the time spent getting acquainted with you and the exciting trips you provided. I will be sending the reference for your web site when I return home. Thank you with all my heart for the unforgettable experiences and for your warm friendship.- Maxine Constable, USA 2006 April
Hi Gabriella, We arrived home Sunday night, tired but happy! Our trip was wonderful and we thank you for making Budapest so interesting that we want to return someday. Thanks, Barbara Yeargin, USA, 2006 April
We really enjoyed your tour and getting to know you. In Budapest we took your advise and went to the postal museum and really loved it. It is a beautiful place. The people there were very helpful as well. So thanks once again. We would not have found it on our own. Hope all is well with you and your family and Happy Easter!!
Ameeta 2006 April
Dear Gabriella, Thank you again for the marvelous tour you provided us. You made the trip worth taking. Your friend and fan, Ed. 2006, March 6, USA
"Gabriella, our guide in Hungary is a gem and I want to take the opportunity to pass this information along to everyone. I can't say enough good about her and we would highly recommend her to anyone planning a trip to Budapest or Hungary. We will never forget our whole experience of the country and especially the people. The other tours were as interesting but not as much fun as with her. She was a delight to be with for a couple days."
Janet and Allen J. H., USA , November, 2005
"I want to thank you again for a great experience that you brought to us and all the help during our stay in Hungary, Karen was even saying now each time when she thinks of Hungary she is going to think about you :-)." Jenny Huang , New York , USA , December, 2005
Dear Gabriella, I wanted you to know that we are safely home, after a wonderful Christmas market trip. But our favorite city was Budapest , especially the time we spent with you. We did go on Monday up the funicular and return to Castle Hill to the art museum to see your Hungarian painter. It was an interesting exhibit.
Most of all I want to thank you for the personal care you gave us in "your city". Especially having someone meet us at the airport, even though we were so late. That really meant everything to me after our long trip.
Warmest regards, Laura and Caroll Toledo - 2010 dec 23
Hi Gabriella, Just a quick note to thank you for showing us around your great city recently. We all enjoyed it immensely. I have passed on your email two couples who are going to be in Budapest shortly and they are also keen to be shown around. I do hope that have emailed you and you are able to help them out.
Once again a big thank you. Regards, Stephen and Dianne Smedley - 2010 Sept 1
Gabby,
Thank you once again for arranging our tours in Budapest and Hungary. We had a small group, but your guidance made it so interesting. Everyone was curious, on the last day when we arrived back at our hotel (Gellert) in Budapest your young good looking son passed our coach and you were expecting him to pick you up… Did he ever remember you and turn around and come back to the hotel?
Judy Farkas / Travel Consultant - 2010 June 23
Jo napot Gabriella
Gary and I arrived safely home in Calgary yesterday afternoon. Paul (our oldest son) picked us up from the airport and took us to his house so we could see our 2 little grandsons. We made Paul taste the Unicum but I don't think he liked it very much. We had a very good laugh about it.
We also wish to thank you for everything that you have done for us. The trip to Slovakia meant more to me than you realize. I was not expecting so much information nor was I expecting to actually meet family or to become so emotional. None of this could have happened without your help. Anytime I hear of anyone who wishes to take a trip to Hungary , I would very highly recommend your services. We feel that we not only discovered a tour guide but that we also discovered a friend!
Koszonom szepen Joanne and Gary J. Moroz
Dear Gabriella,
We so enjoyed your tours!!!! The opera was lovely, the Parliment magnificent and the Baths heavenly. Thank you so much for making our stay so perfect.
Sincerely, Cheryl 2010 June 4
Hello and greetings to you Gabriella from America. We are home and as promised, I am sending you some photos of the "wine knights". Also want to thank you for your time and the wonderful tour you provided us. It was really fantastic and I think we all could have kept going if not so tired from travelling. Also, the airport van picked us up right on time and that too worked wonderfully. Thank you so much. You are such a pleasant person and your knowledge and insights were invaluable to us. Best wishes to you and your family. Jim, Lisa, Melissa, and Dennis
Kedves Gabriella-Thank you so much for a fascinating two days in Magyaroszag that were life changing - literally! My mother, father and I have not stopped talking about it. Thank you, again. I'm so incredibly proud of Magyaroszag and to have Hungarian blood! I will send pictures when I return to New York. I can't wait to come back for a longer holiday (and I promise my Hungarian will improve!). I will send you a link once we have uploaded all the pictures from our trip, and we would be honored to have our family photo on your site! Please feel free to use any of the recommendations as well. I will also be happy to be a reference, should anyone ask.
Feel free to give my work number (212-279-1478). Christine Gilbertie | Co-Founder, Managing Director, Gotham Direct, Inc., NY, 2008 December
Dear Gabbie, Thank you so much for your help while we were in Budapest, you made our stay in Budapest very special. We must also thank you for the special attention and consideration you showed Mackenzie (age 7) and Cooper (age 3). Anyone who has traveled with young children knows that you need to be extremely flexible to survive - and you were fantastic with them, even down to providing them with toys in your car :) We enjoyed your knowledge and how you explained things. We also appreciate the insight you gave us into life through the communist times.
Budapest really surprised us - was so much more than we expected and this is in part down to you. So thank you again, you really made our trip to Budapest one to remember.
We have attached a few photos. Please, use our letter or names as a reference for you. Also there is no problem if people would like to contact either of us, we would welcome any questions from potential clients of yours.
Regards Aaron, Anna, Mackenzie & Cooper
Aaron Beveridge , Anna 2008 December
Hello Gabriella! We are now back to the routine of home life but wanted to thank you very much for a wonderful tour of Budapest. I know there was so much more to explore but you gave us a fantastic insight to Jewish Budapest and more than we could have ever imagined we'd see. Thank you for all your care and detail, understanding what we wanted to do in the time, it was spot on! Such a beautiful city and thank you very much again for helping us enjoy our trip. Hopefully we will return again soon and of course will call you. With our best wishes Sharon and Jonathan, UK. 2008 October
Dear Gabby, We made it home safely and wish to thank you again for a wonderful time. You made our trip so much more fun and enjoyable. We loved hearing all about the Stalin Baroque and your life during that time. Best wishes to you and your family and come to see us soon.
Best regards, Geraldine Sherman 2008 Sept
Dear Gabbie,
I can't believe it has already been 3 weeks since we spent our wonderful day touring Budapest with you. Thank you so much for all of your insight. We absolutely loved our entire time in Budapest thanks to the groundwork and suggestions you gave us.
Your tour was very well thought out and gave us a fabulous orientation for the entire city. Thanks again for making it so special. We'll be giving your name to anyone we know who plans to visit lovely Budapest.
Best regards, Ann & Mark Feldman (2008 August)
Gabriella, you were one of the top highlights of our 50th anniversary trip! Thank you so very much for your enthusiastic and enlightened guidance around Budapest. Our experience there would have been so much less memorable had we not used your services. You brought the city, the countryside, and Hungary's history and culture to life for us.
Thank you again, Gabriella, for making our time in Budapest very special. You are wonderful at what you do!
Fondly, Dave and Marilyn Carpenter (2008 March)
Hello Gabriella,
We wanted to thank you again for the lovely day we spent with you on the Danube Bend tour. We very much enjoyed our time with you. You are a very informative and delightful guide. The small detour to that beautiful hideway was very peaceful and enjoyable as was our litte walk. Best wishes for the future.
Again our thanks, Warmest regards,
Susan & Elisabeth. (2008 May)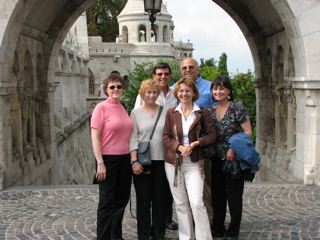 It was such a great pleasure for Debbie and I to meet you yesterday. We REALLY enjoyed spending the day with you and your fabulous tour. Your skills and excellent knowledge are outstanding without question and I would be happy to be a reference for you at any time and will definitely recommend you to my friends and family when they come to visit.
I hope that we did not tire you out running around all day. We saw so many interesting things that we never would have got to see and understand without your excellent skills and caring attitude. When you come to San Francisco, I will not forget my offer and will be most happy to take you up in my airplane to show you a city, nearly as beautiful as Budapest.
Our time with you was really the highlight of our trip to Hungary! I felt that I learned a lot about my homeland and feel much more connected now. En Magyar!
Best regards, Steve
Steven M. Elefant
Managing Director (2007 December)
Dear Gabriella,
Becky, Christie, and Tom would like to express our thanks for the great service you provided to us. We totally enjoyed our trips with you and maybe even learned a little Hungarian history along the way. Vienna and Prague were nice, but they cannot cope with Budapest. When the pictures are posted on the web, I'll email you again.
Wish you the very best.
Erwin 2007 November
Gabi, Merci and I made it home safe and sound. In retrospect, our time with you was the highlight of the trip. Merci and or I will email something later to you for use on your web site. We may post it somewhere else for potential clients to see. On a cultural note, Americans are different from one another, just like Hungarians are different from one another. I have found that most Americans are direct and honest. Particularly, those from America 's heartland, the midwest USA. Merci and I are from Missouri, right in the middle of the midwest. Our parents were middle class, hard working people. The point is when we say something, we mean it. So, when we say you were the highlight of our trip, we mean you were the highlight of our trip. Thanks for making our trip memorable. Although we liked it, our trips to Salzburg and Vienna were too "commercial". Next time we will take the time to research finding a guide that can teach us more about each location.
Patrick Dulany 2007 September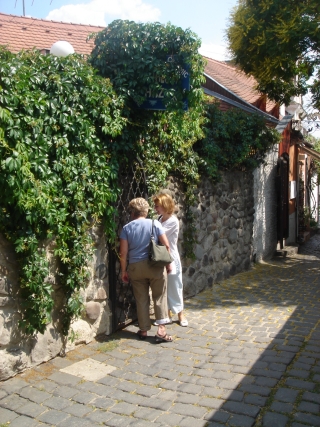 I cannot tell you how much we enjoyed spending the day with you last week. We gave a toast to you at dinner that night and the next!.... Again - thank you, thank you, thank you, for making our trip so memorable. Peter and I definitely plan to return to Budapest some day, and we would love to see you again. Warmest regards , Janet. 2007 August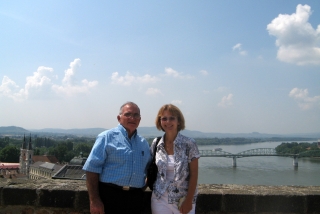 Dear Gabriella, A brief note of appreciation for making our holiday in Budapest complete. Your knowledge of your city and your country is matched only by your boundless enthusiasm and energy. Shortly after we parted on Thursday we began to explore the Palace. Within moments each of use had posed at least one question. And then, almost in unison, we exclaimed, "Where's Gabriella? he surely has all the answers! We miss her already!" You can imagine how pleased we were to see you on Friday when we ran into you at the synagogue! Please be assured that we will sing your praises to all of our friends who plan to visit Budapest. And please use us as a reference with any future clients. We hope the attached photos of our gang will bring a smile. They are sent with the sincere thanks and warmest wishes of Barbara, Wendy, Liz, Nick, Andy, Ellen and, of course, me! Joe
Joseph D. Harbaugh, Dean and Professor Shepard Broad Law Center, Nova Southeastern University.
Dear Gabriella -- we have such great memories of Budapest. You really made our trip there very memorable. I am putting a recommendation on the Fodors website for you. It 's up on www.fodors.com, click on talk, then click on europe for forum, then scroll to Hungary for topic and you should see it!
Thanks again for a wonderful one and half days in Budapest. We hope to get back to your beautiful country again someday so that we may see the countryside. - Best regards, Kathy
Thank you for your kind efforts during our short stay in Budapest. We enjoyed getting to know you and learning more about Hungary through your eyes. Craig. - 2006, April 17 Northfield , USA
Dear Gabriella, Just to let you know that we all arrived home safely, and to thank you again for a most enjoyable day in your company. We particularly appreciated the way you treated us as individuals and tailored your tour to suit the time available and our varied interests. Our visit to the spa baths was the highlight of our week. I hope to visit your lovely city again soon and will be in touch. Thank you again. Respectfully yours, Neil. 2006, March 7, UK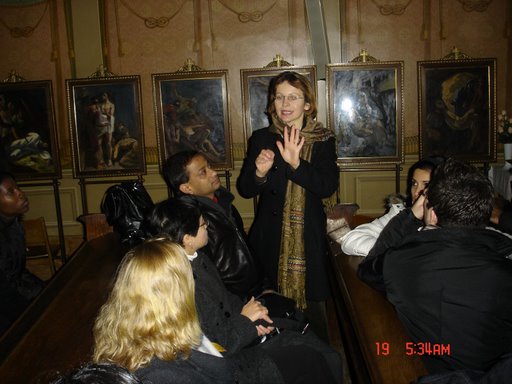 "Dear Gabi, Thanks for being a wonderful tour guide! The group always loves you because you are such a hard working and kind guide. We will look forward to seeing you next year. Fondly, Sandy, Andy- " Sandra M. Fields, University of Delaware, USA , February, 2006
Greetings from Los Angeles! We often speak of our happy days in Hungary and how much you added to our trip. Best wishes and I hope all is well with you and your family.
Love, Susan E. Downey, USA , November, 2005